Principle:
The invention is an innovative mechanism for articulated seats in the field of medical and/or comfort furniture.  
The device  allows the user to modify the posture of the seat or of the bed by a simple, robust, fully manual mechanism It can be applied to many types of furniture.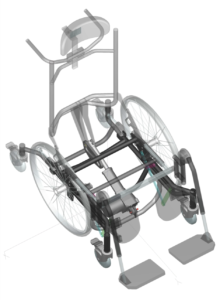 Competitive advantage and stage of development:
Unlike other existing technologies, the invention makes it possible to generate movement without using a motor or complex equipment. The design and assembly of the mechanism are simple, which gives it great robustness for a reduced manufacturing cost.  
This technology is protected by a patent application pending in several countries in Europe. 
Our offer:
Implementation of a patent licensing agreement giving exclusive rights to manufacture and commercialize the device in the countries where the patent is pending. 
To know more about the

technology

and

obtain

the non-

confidential

presentation

file

:
Contact us at brandon@brandon-valorisation.com