Principle:
iBanr is a multimedia screen built as a LED poster display, foldable and easily transportable. The kakemono can be installed thanks to a concertina-like folding system and does not require any technical skill for installation and operation. It can display most of the standard multimedia contents.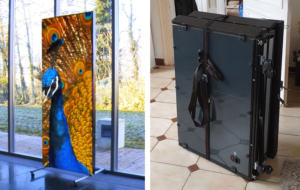 Competitive advantage of the technology and stage of development:
If other screens already exist on the market, this kakemono has the advantage of being folded to be transported and can easily be unfolded for use.
Several functional copies of this kakemono are regularly used for trade fairs, exhibitions, business meetings…
This invention is protected by a European patent application, to be soon extended worldwide.
Our proposal:
Implementation of a licensing agreement for manufacturing and selling the products derived from this technology.
To know more:
Please contact us at: brandon@brandon-valorisation.com
Documents available on request:
Non-confidential presentation
Commercial documentation
Additional information about the project available after the signature of a non-disclosure agreement
Back to our business opportunities