In 1923, Charles G. Purdy, a proud NYC citizen, filed a patent application in the field of physical exercise (n°1,466,559). This is a device specially designed to exercice… the mouth!
According to the inventor, the "modern" (a century ago) methods of preparing food result in meals requiring little or no mastication (this is undoubtedly even more true today with yogurts, sliced bread, minced meat etc.), which leads to decayed teeth, undeveloped jaws, or other various issues related to lack of buccal exercise.
Fortunately, he found the solution!
The device consists of a plate shaped as to match the contour of the user's mouth, with the prints of each tooth so that each of them, when biting into the object, is in contact with it. A cord is connected to this plate which ends in a spring and which must be attached to a wall or other rigid support. The user bites the device and, thanks to head movements, creates tension which allows him to reinforce his jaw muscles.
Look at this:
Method of using the device n°1 – alone: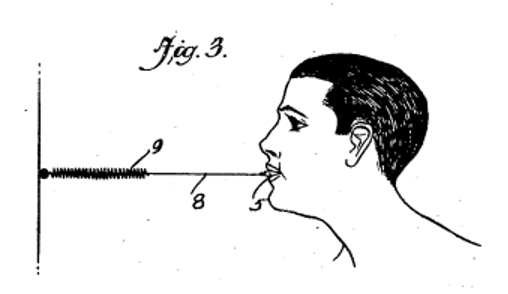 For those who prefer to train with friends, the inventor has also the solution. The idea is to have fun together in a sort of "tug-of-war", but with your teeth (of course). In this case, each person grips one plate. The two plates are connected together and it is up to whichever one pulls the hardest. It's certainly not as romantic as the restaurant scene in Lady and the Tramp, but who knows, maybe it's a way to get closer to your crush (as long as you don't end smashing his/her teeth).
Method of using the device n°2 – in duet:
We of course do not recommend this device to anyone with a dental prosthesis…
However, it is a very good exercise if your goal is to break the Guinness Book's record for the heaviest weight pulled with the teeth alone, currently held by a Malaysian who, in 2007, pulled an entire train weighing 297.1 tonnes using the sheer force of its jaws!