In recent weeks, we have exposed various strategies for innovation valuation that can be carried out independently or in a complementary manner within a company.
The diversification of activities through the exploitation of innovative products under license,
Collaborative development,
Income generation through patent licensing,
The financial valuation of intellectual property rights
These different stages of the company's strategy are applicable mainly to intellectual property rights such as patents (and association know-how), trademarks, models, software, etc.
Intellectual property is an essential component of the development strategy
It is risky to launch an innovative project without first integrating in the development strategy the issues of industrial property and economic and financial valuation.
Otherwise, the company is under the threat from international competition on a market where any delay or strategic error has a direct impact on the success of an innovation.
Intellectual property gives its owner a monopoly to exploit an innovation.
It allows:
The control of successive risks from the idea to the launch on the market,
The economic valuation to generate income
The financial valuation of intangible assets to increase the value of the company with a view to raising funds.
The innovation process and the contribution of intellectual property
(Click to enlarge the picture)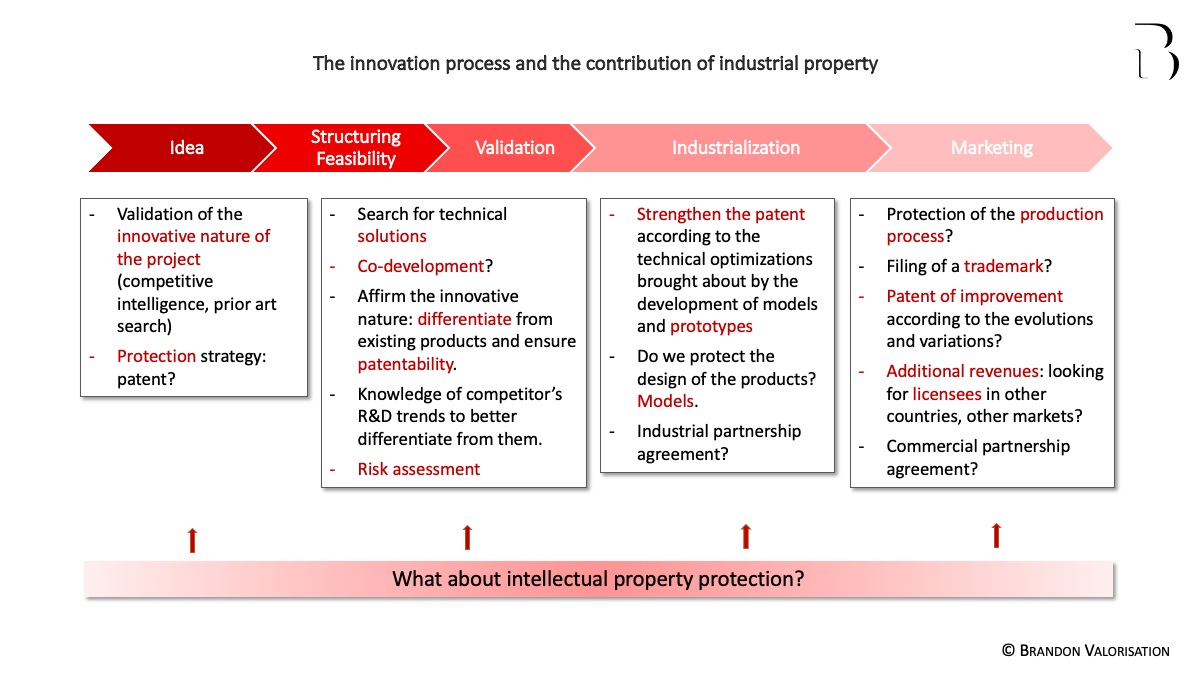 The "technology watching"
Finally, for companies competing on their market, it should be noted that the technology watching is not only a tool for measuring trends by watching the content of the patent, but it also allows to understand the competitors' paths of development.
The analysis of this data helps companies to anticipate and adjust the differentiation strategy of their offer. It would be a folly not to make use of this tool!