According to the Global Innovation Index 2022 published by the WIPO (World Intellectual Property Organization), Switzerland is again the most innovative country around the world. This is the twelfth consecutive year that the country has come out on top of the rankings. It is ahead of the United States, Sweden and the United Kingdom. Regarding China, the country continues its efforts and is now n°11, ahead of France which is in 12th place.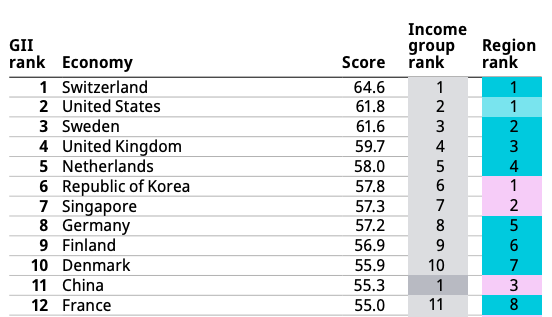 The WIPO foresees a diversification of the most innovative countries in the next 5 to 10 years, with probably an improvment in the Asian countires' ranking . Hope for the future is placed in a new wave of innovations based on artificial intelligence and automation as well as innovations relating to biotechnologies, nanotechnologies and new materials in the following 4 key areas: health, food, environment and mobility.
For more information, the Global Innovation Index 2022 is available on this page..
To read our article from 2021 about Switzerland, the most innovative country in the world.